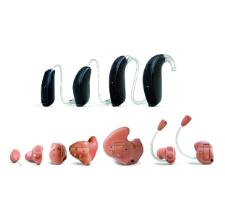 ReSound has introduced the latest in smart hearing aids, allowing people to connect, interact and engage more naturally than ever before. The next generation ReSound LiNX2 adapts to you and your lifestyle with technologies in all areas of smart hearing, including audiology, design, connectivity, and apps:
Audiology – Experience the latest version of Surround Sound by ReSoundTM, with exceptional surround sound quality, speech understanding and spatial awareness
Design – Choose from a full range of modern, durable designs that are both comfortable and discreet, including new ergonomic designs. A range of colors is available.
Connectivity – Stream stereo sound directly from your iPhone, iPad, or iPod touch that is corrected to accommodate your unique hearing loss. Also enjoy movies, music, make phone or video calls, and get clear directions around town.
Apps – Fine-tune your settings and personalize your hearing experience using ReSound smart phone apps, including adjusting the volume, treble, and bass; creating favorite programs; and enhancing your listening experience in challenging sound environments … all without touching your hearing aids.
Made for mobile devices, ReSound LiNX2 technology makes your hearing aids work like Bluetooth stereo headphones and provides direct stereo streaming from iPhone, iPad and iPod touch.
Free apps are available to listen to sound demos and learn about key features of ReSound LiNX2:
Go to the App Store to download the app for IOS devices
Go to Google Play to download the app for Android devices
Ask your audiologist at Mid-Kansas ENT for more information or to schedule an appointment.