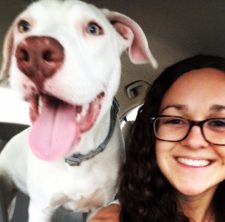 We are thrilled to welcome audiologist Ashleigh (Eddelbuttel) Guthrie, Au.D., CCC-A, F-AAA, to our experienced staff.
Although she was born in Sydney, Australia, she's not new to the Midwest, having received her bachelor's degree in communication disorders and audiology from Missouri State University in 2012, and her doctorate of audiology from Wichita State University in 2015.
Dr. Guthrie completed a doctoral residency at Hearing HealthCare Centers in Broomfield, CO. She holds a Certificate of Clinical Competence–Audiology (CCC-A) from the American Speech Language and Hearing Association, and is a Fellow of the American Academy of Audiology (F-AAA).
"The people here at Mid-Kansas ENT are passionate," said Dr. Guthrie. "I am pleased to be part of a team that genuinely wants to help people with their hearing needs."
Dr. Guthrie is an advocate for patient education and a firm believer that keeping patients informed is an important part of the process. "Knowledge is power," she added. "We're not just here to sell hearing aids. We're here to help. And when patients understand their options and are comfortable with their choices, it improves their quality of life."
Dr. Guthrie helps patients with hearing evaluations; hearing aid consultations and fittings; and tinnitus evaluations.
When she's not at work, she enjoys exploring Wichita. Her favorite partner to explore with his her deaf dog, Hank, a Dalmatian-mix. They take long walks and find new trails together. Dr. Guthrie also enjoys spending time with her family, cooking, working out, and trying new restaurants.
Dr. Guthrie accepts appointments at both our East and West Wichita locations. To make an appointment, please give us a call at (316) 684-2838.